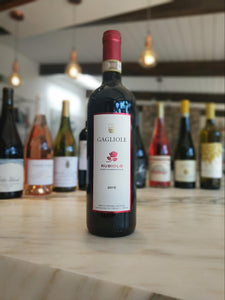 Chianti would make a great cautionary study for a marketing course: a famous wine region that was expanded to more than triple its original size and very loosely regulated, resulting in poor quality wines and a tanked reputation. On top of that, despite years of quality improvements,  you can, even today, see wines labeled as Chianti ranging in price from $5-$400. That's a branding no-no. The good news is that the old boundaries of the classico zone have never changed, so that if one sticks to Chianti Classico, the odds of getting a quality wine are very high--with some truly world-class wines boasting the black rooster symbol. In addition, Chianti producers no longer have to produce their wines according to a recipe intended to produce light weight wines—the old recipe required a significant amount of white wine! Since 1995, it is allowed to produce Chianti with 100% Sangiovese grapes as well as using up to 20% of global grapes. This blend of 90% Sangiovese and 10% Merlot ferments in steel, then 70% of the wine matures in oak vats and 30% in steel tanks, followed by a further 3 months in bottle before release. This is a classic pasta wine.  
Somm Fun fact: the word
fiasco
comes from the name for the straw baskets on the old globular Chianti bottles. Luckily that word does not apply to this wine!